Enneagram Team Workshop Spotlight: Cincinnati Children's Hospital
Mar 01, 2023
Earlier this year, I had the pleasure of sharing the Enneagram with a group from the U.S. News Best Kid's Hospital, Cincinnati Children's.

The fact that the leadership team invested the day on a topic to help team members learn more about themselves and each other - and the fact that team members felt safe and had the willingness to share so openly - is a testament to this group's culture of understanding and belonging.
The day was a mix of information, group discussions, and application exercises to practice using what we were learning beyond the workshop experience.
One of my favorite pieces of feedback shared the following day was how one team member has already started using the Enneagram at work:


"I used it today! I have a colleague on another team and we sometimes struggle together. I emailed them this morning to ask for their top 3 types so I can learn more about them, understand their motivations better and then adjust how I interact with them to hopefully build a stronger working relationship."
Other feedback from the workshop included: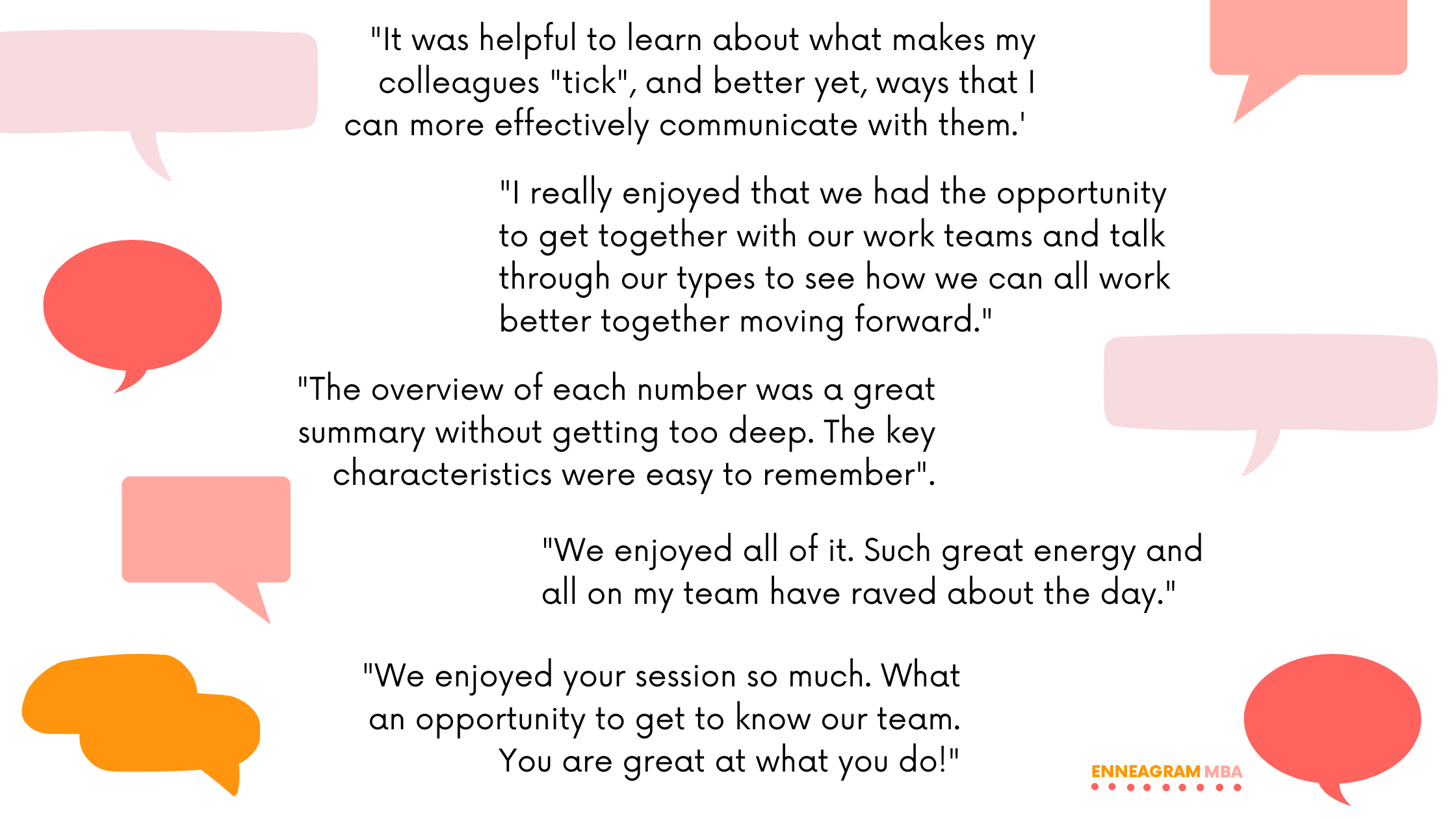 Are you interested in hosting your own Enneagram team workshop? Learn more about the current options here!
Hear how 3 team members from this workshop have been using the Enneagram at work in this Enneagram MBA Podcast, "Do Type 2's and Type 8's Get Along at Work?"
Listen to this co-worker interview ---> https://www.enneagrammba.com/blog/type-2-and-type-8-working-together
Get Enneagram resources for influencing and interacting with people at work.
Understanding People is a free weekly newsletter sent out each Saturday morning with Enneagram insights, self-awareness how-to, book recommendations, and human behavior research to help you build healthy relationships, inspire others to action, and live the best version of yourself.